First published on Live Journal - 19/08/09
[Yep, I know this wee disc has been out for a couple of weeks now, but it's one of those albums you have to LIVE WITH for a while before you form an opinion.]
Judy Dyble was in
FAIRPORT CONVENTION
, 'tis true...
...but that was BEFORE they invented "English Folk Rock". The
Fairports' first album
(1968) was a rootsy melange incorporating West Coast psychedelia with vocal polyphony reminiscent of Jefferson Airplane and the songs of emerging balladeers such as Joni Mitchell, Laughin' Len Cohen and Richard Farina. There were strong indications that the Muswell Hill brigade were also in awe of THE BAND, whose "Music From Big Pink" had recently paved the way for rock and roll to turn all RUSTIC on yo' ass. No longer would amped-up guitars be the BE-ALL AND END-ALL of popular music (although they would continue to be welcome, if Richard Thompson had anything to do with it!). Turn it down! Bring on the fiddles and mandolins! Bring on the autoharp, the jews harp! Blow that jug now! But then Judy Dyble left, SANDY DENNY arrived... And the rest is history...
Judy Dyble was nearly in
KING CRIMSON
as well.
In 1968,
GILES GILES & FRIPP
were ensconced in Brondesbury Road trying desperately to come up with some more Cheerful Insanity. An advert posted by Judy Dyble appeared in "Melody Maker" seeking backing musicians. Peter Giles, in the hope of some PAID work, answered the ad on the band's behalf. Judy already knew IAN McDONALD, with his saxes and flutes and a winning way with a melody, and his silent songwriting partner PETER SINFIELD. The Judy Dyble Band as such was never to be, but McDonald and Dyble added their contributions to the teetering pile of Revox tapes in the Brondesbury front parlour. Judy didn't stay for long, but did record a demo of Ian's "I Talk To The Wind", a song destined for the first Crim album. The Fripp/McDonald/Giles/Sinfield partnership was now in place, just waiting for that Greg Lake fellow to come along... And the rest is history...
Judy Dyble recorded an album with
TRADER HORNE
(which I didn't like that much) and something jazzy with
LOL COXHILL
and the Canterbury MILLER BROTHERS (which I WOULD like to hear). Then she went back to being a librarian. In the meantime, they invented the internet... And the rest is HER story...
Flash forward forty years... Having been persuaded to come out of retirement to appear at a
CROPREDY FESTIVAL
or two, Judy Dyble links up with a number of friends, old and new, through the magic of SOCIAL NETWORKING. As we all know, this newfangled interweb thingy allows musicians to team up and form global creative partnerships without all that tedious mucking about in airport terminals. The first time I became aware of Judy's reemergence was when she and Pat Mastelotto collaborated over vast distances on a track by the Swedish experimentalists
JOXFIELD PROJEX
. Hence, I'm guessing, the name of this new album "
TALKING WITH STRANGERS
".
Your local record emporium (if you've still got one, that is) will probably have filed this under "FOLK" - but do NOT, under any circumstances, let that put you off! The words "Fol-de-ra-de-ree" are nowhere to be heard and, as far as I can tell, there are no accordions. NOW BE THANKFUL.
So what is it then, if it's not "FOLK"? Cardinal reference points would be:- the kind of English wistfulness that ROBERT WYATT or DAVID SYLVIAN sometimes bring to the table; the quiet bits between the hectic bits on the first three KING CRIMSON albums; RENAISSANCE without their more pompous side; the moments in the late sixties when FOLK and JAZZ fused into something else entirely, that was NEITHER of those things (PENTANGLE, TREES); the pastoral side of prog (STRAWBS, STACKRIDGE)...
The album is produced by
TIM BOWNESS
of
NO-MAN
, and
ALISTAIR MURPHY
, who also play and sing throughout. No-Man are a band for whom all the previous musical references will also apply, so it's a marriage made in heaven.
Friends from all phases of Judy's career pay a visit. From that very first Fairport, we have sole-surviving member SIMON NICOL supplying his tasteful acoustic guitar. The Crim's IAN McDONALD plays flutes and saxes, bringing things full circle to Brondesbury Road. ROBERT FRIPP lays down his trademark guitarscapes in EXACTLY all the right places. A choral backdrop supplied by JULIANNE REGAN (All About Eve), JACQUIE McSHEE (Pentangle) and CELIA HUMPHRIS (Trees), ticks several more boxes.
All topped off, of course, with THE VOICE. How to describe THE VOICE? Well, it's certainly not rock 'n' roll, thats for sure! It is an ENGLISH voice, a received-pronunciation voice, there is not a trace of affected accent. For that we should be grateful. THE VOICE is the thing that will find the album racked under "FOLK", for want of anywhere else for it to go. The sound of THE VOICE immediately transports one back to that first Fairports' album, true; it is comparable to Sandy Denny at her best, but there also echoes of Annie Haslam without that singer's slightly schoolmarmy bell-canto Julie Andrews tone. It is "FOLK" without the affectedly nasal rustic twang favoured by [too] many; there is none of the seemingly contrived 'authenticity' of a Shirley Collins, June Tabor or Maddy Pryor; there is definitely none of the irritating Violet-Elizabeth Bott tendencies of Vashti Bunyan. THE VOICE is perfect for the melancholic English Prog sound of the album, crystal clear when it needs to come to the fore, but blending with the voices of Bowness et al when the song demands something a bit more textural. THE VOICE has matured as an instrument in the intervening years.
Just one quibble: the hand-script in the CD booklet is "tiny-on-the-cusp-of-being-unreadable-without-artificial-aid" in places, especially on the instrumental credits.
Oh... and it seems, at forty-odd minutes, to be over FAR TOO QUICKLY. This is a GOOD sign. Probably.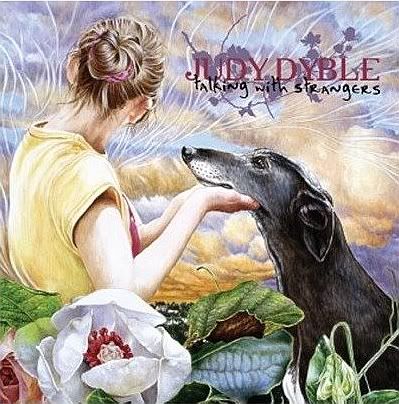 NEVER KNOWING... Simon Nicol's distinctive acoustic guitar picking gently eases us into the album, a short little Tim Bowness song of regret, leading directly into...

JAZZBIRDS... which retains the waltz time of the opening number, but expands the instrumental pallet to include the ubiquitous autoharp, harpsichord and organ, nicely underplayed percussion from P@ and a delightful flute solo from Mr McDonald. The song has more than a touch of the Giles Giles & Fripp about it. The words of the song, nicely oblique, seem to be about a painting.

C'EST LA VIE... A song written by GREG LAKE (with characteristic lyrics by PETE SINFIELD) that first appeared on Emerson Lake & Palmer's "Works Vol.1" album and was also performed live during their extravagant US tour with a full orchestra. This version benefits from the lush vocal harmonies (Dyble, Bowness, Regan, Humphris) and lovely soaring fiddlework by RACHEL HALL. There is a definite Balkan gypsy or Greek island vibe to the soundworld at times.

TALKING WITH STRANGERS... A simple piano and voice arrangement that again harkens back to some of the Brondesbury Road demos (even though Ian is only there in spirit on this particular track!)

(IN THE) DREAMTIME... This is the one point of the record where the lyrics might be said to cross the line into twee hippie territory - all the "hey now sunshine morning..." "magical mystery dream..." and "kaleidoscope colours..." stuff gets a little cloying. But it's easy to ignore the words entirely and just listen to the sound of the voice for what it is (a trick that anyone who has listened to YES for thirty-five years will have learned by now!). This song reminded me of certain tracks on All About Eve's "Touched By Jesus" album. It is gorgeous.

GREY OCTOBER DAY... This is by far my favourite song (at the moment). The very first piano chords just scream "Canterbury"! Tim Bowness shares lead vocals (with more than a nod to Mr Wyatt at times). Laurie A'Court is the sax player here, playing solos on both tenor and alto, worthy of Jimmy Hastings himself!

HARPSONG... The 'opus magnum' of the album. Nineteen-and-a-bit minutes of No-Man-like instrumental interplay, featuring the unmistakable guitar of ROBERT FRIPP, lots of wind players, lots of guitar players, all taking turns in the spotlight. The song itself laments the passing of the years and seems to suggest that Judy wants to make up for lost time. "I closed my ears for thirty years..." "So much music fills the air, and I'm still busy growing..." sings Judy. Certainly a lot of different kinds of music emerge from THIS particular song. You hear shades of "I Talk To The Wind" and "Moonchild", the "McDonald & Giles" album, as well as the Crimson-like "Lobster" segment on that first Fairport album. The transition from the Floyd-like sax break (at about eight and a half minutes in) into the section featuring our Robert laserbeaming over P@'s quasi-tabla and congas is a prime "HAIRS ON THE BACK OF THE NECK" moment. And THEN it goes into a 'heavy' section that could be from "Starless"! Many longform No-Man pieces tend to stray towards something like 'rave' music (I'm not knocking it - it works!). This is because they are often anchored by a drum machine. But this piece flows organically by virtue of P@'s intelligent drumming. He can go from sounding like Steve Janssen one moment, to conjuring up the spirit of Martin Lamble the next, to out-and-out KCrim. The final words of the album echo away - "Nothing Can Go Wrong..."