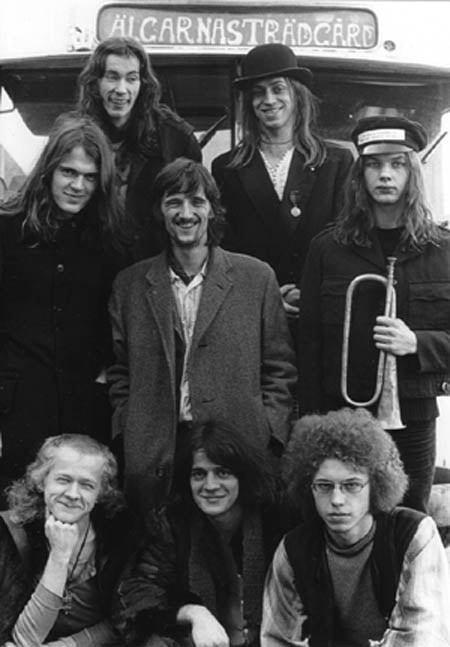 Whoops-a-daisy! Here's an oldie-but-goody I missed out when I was compiling my 1972 LIST a while back...
The Swedish collective
ÄLGARNAS TRÄDGÅRD
(meaning Garden of the Elks. Oh yes.) released their only
*
album in 1972. Its title was
(and let me make sure I get all the right Swedish accent characters here:)
"Framtiden är ett Svävande Skepp, Förankrat i Forntiden"
(and that means "The future is a hovering ship, anchored in the past").
IT IS WONDERFULLY, DELICIOUSLY MAD. If you have any interest at all in psychedelia, krautrock, psych-folk, progressive rock, space rock, RiO, or any other sub-genre of EARLY-70s LISTENING MUSIC, then you should endeavour to hear this semi-forgotten classic at least once in your lifetime.
"A veritable testimony to the halcyon days of hippiedom..."
, wrote one reviewer when the album finally got a digital beef-up. Except that suggests that it might be all "Hello Flowers Hello Trees". This sure ain't.
Comparisons might be made to ASH RA TEMPEL, POPOL VUH, PINK FLOYD's soundtrack work, pre-"Phaedra" TANGERINE DREAM (with whom they share a knack for long contrived titles), early GONG, or "Future Days" period CAN. Ticks all the right boxes for me! But they also inject a goodly dose of folk music from Scandinavia and Elsewhere: a particularly spacy passage might suddenly stop and be interrupted by something that sounds like a maypole dance - very "WICKER MAN" indeed!
They also use unusual 'folk' instruments alongside the standard 'rock' pallette - at various times you will hear rebecs, zithers and cellos and all manner of other WOODY things lurking amidst the electric mayhem, VCS3 bleeps and atmospheric sound effects. The vocal arrangements also have a 'medieval' air about them - sometimes a pretty 'folk song', sometimes a Gregorian chant, always kinda spooky!
The album main meat course is the magnificent sidelong sequence that is "TWO HOURS OVER TWO BLUE MOUNTAINS WITH A CUCKOO ON EACH SIDE OF THE HOURS" > "THERE IS A TIME FOR EVERYTHING" - there! I warned you about the titles, didn't I? - during which you will hear church bells, acoustic guitar melodies, long S-L-O-W D-R-A-W-N O-U-T krautrock dirges, fuzzy guitar freakouts, a wee jig or two, dark and gothic choral passages, squeaky doors and horses' hooves, all in quick succession.
I have to confess, I've never caught a glimpse of a REAL LIVE copy of this album. I knew it via a third generation tape given to me by a chum. Later it appeared on a naughty diskload of MP3s given to me by another chum. I eventually bought it as a download from iTUNES. It HAS had a CD release on Silence Records
[Silence SRSCD3611]
, but I haven't stumbled over a copy at a record fair as yet... Which brings me to that asterisk in the first paragraph, when I mentioned that this was their 'only' album. After Silence released this on CD (and vinyl) in the late nineties, they followed it with the 'lost' second album
"DELAYED"
[Silence SRSCD3626]
, an anthology of other recordings made by the band circa 1973-74.